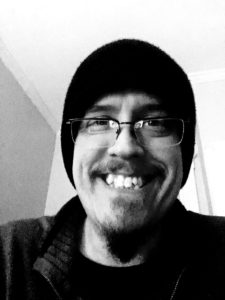 I assemble images & sounds from the forms and base elements I find around me. I am the intelligent agent of that design.
I am the Chief Harvester of Experience Farm. I am a multimedia designer, web developer, digital artist, & technology enthusiast.
I completed my BFA in Art with a concentration in Design at UNC-Greensboro in December 2001. I live in Greensboro with my wife, Danielle Hatfield, and our amazing Dirt Digging Consultant, Charlie the dog.
My artwork has won awards for Excellence in Computer Art. I was one of the original co-founders of the Greensboro Fringe Festival (after stepping down from the board of directors, I continued my support by becoming a corporate sponsor).
I've had a passion for technology as long as I can remember. I work with computers everyday, and though they amaze me, I am still waiting for something more. I believe civilization has arrived where it is in large part because humans developed greater and greater methods for controlling and predicting their environment.
I also believe this next quote is hugely important.
"Technology will free the mind of man… or enslave it."
Lawnmower Man (1992)
We must remain the toolmaker. If not, we may become only the worker and enslaved by the very tools meant to free us.