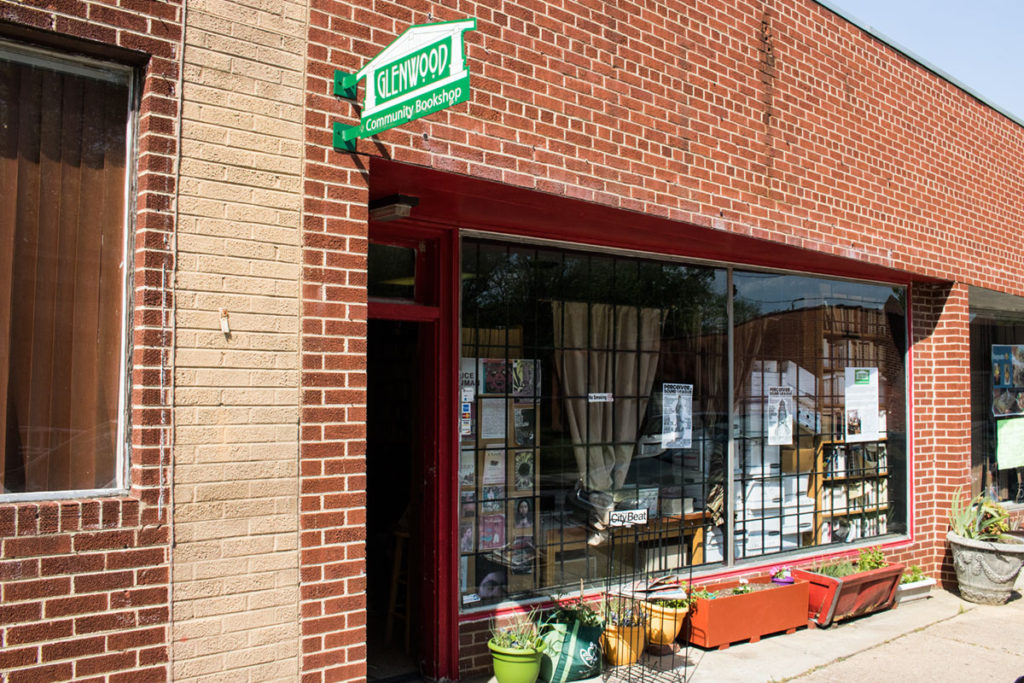 I attended a 4pm performance of Polyorchard on Saturday, April 15th, 2017 at Glenwood Community Bookshop in Greensboro, NC.
This small bookshop is located in a commercial strip deep in Glenwood neighborhood. It's one of those places where usually there are just houses, but some quirk of zoning has a small strip of shops and some industrial looking buildings.
I arrived a little early to check with David that my camera wouldn't distract the performers. Once confirmed, I sat near the back of the book stuffed room. I know there were book sections by subject, but it was often too much to take in. I saw titles jump out, and little else for the forest of book spines. The performers were ranged in a semi-circle down the room facing the audience.
The start was a brief introduction by David Menestres, founder of Polyorchard. Then he pointed at one of the performers and the performance began…
There was a volley of musical outbursts and sound effects using objects (like a balloon), tapping on instruments, scratching, even weird animal like noises that bleated from a trumpet. The overall effect of the improvisational sounds was being in a random environment that wasn't truly random. Each piece had a definite start towards an arrival that concluded.
This iteration of Polyorchard is…
Antonion Albanese – guitars
Laurent Estoppey – saxophones
Anne Gillot – bass clarinet, recorder
Michael Thomas Jackson – clarinet
Bill McConaghy – trumpet
David Menestres – bass
Noelle Reymond – bass
Antonion, Anne, & Noelle are members of ensemBle baBel from Switzerland (so is Laurent, but he lives in Greensboro now).
David Menestres is the founder/leader of the Polyorchard ensemble. David is a bassist, composer, and writer currently living in the Piedmont region of North Carolina.
(to inquire about use of any of these photos, please CONTACT me to make arrangements)